Vintage Classics was a shop in Uptown. It was released on December 3, 2010. But there was a special catch: it had an eCoin discount on all Vintage items. you could buy a Hair, Clothes, Board, Accesorie, or Furniture for half the price.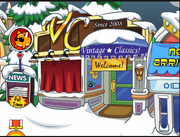 Closing
On October 7, 2012, Vintage Classics was replaced with Trade n Sell. Not a lot of people used Vintage Classics, but Fantagians were happy about this replacement because Trade n Sell was the most popular store in Fantage.
Reasons For Closing
The shop believed to have closed due to the places unpopularity.
Ad blocker interference detected!
Wikia is a free-to-use site that makes money from advertising. We have a modified experience for viewers using ad blockers

Wikia is not accessible if you've made further modifications. Remove the custom ad blocker rule(s) and the page will load as expected.