Uptown is another of one of the places in Fantage. Like Downtown, it consists of places for users to shop, as well as having Hall of Fame.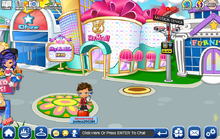 Uses
The shops.
This is where Buzzer Beater used to be.
The Hall of Fame.
Places
Retired Places
These buildings were located Uptown, but have since been removed. See also: Retired Buildings
Other Languages
Spanish: Calle Mayor (Main Street)
Japanese: アップタウン (Appu taun, Uptown)
Ad blocker interference detected!
Wikia is a free-to-use site that makes money from advertising. We have a modified experience for viewers using ad blockers

Wikia is not accessible if you've made further modifications. Remove the custom ad blocker rule(s) and the page will load as expected.