Fantagella (Units4)

User on Fantage

Units4

Level

860+ (non)

Birthday

December 28th

Nationality

Vietnamese

Youtube Channel

Fantagella

Amount of subscribers

70+

Fantagella or Units4 is a youtuber, well known for her animations like Natural Summer Look. She is also known for her blog www.fantagegeneral.wordpress.com in which she posts about event updates and her opinions on them, random posts and her known series of posts about fantage stealing ideas.
Information
Fantagella fantage username is units4. She is currently a non member as she dislikes the fact that Members can now get permission but non members can't. Her real name is Alice and is Vietnamese. She has stated that she does not have a Fantage Facebook, but has verified her  Fantage Instagram.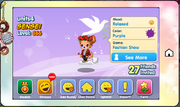 Originally started Youtube in February 25th 2014, she started making videos again in 2016 after deleting most of her previous ones. She has mentioned that she has been inspired to start making videos again after watching Pinkerellie, OwOCookies and Juliaroxall's videos.
She has mentioned on her profile on Instagram that she was planning on quitting Fantage because of the unequal terms between Members and Non members that Fantage has created but will keep playing to motivate herself to update both her blog and youtube channel. 
To watch her videos, click here 
Trivia
Units4 started fantage originally in 2012 as units5, before being hacked and returning back in 2013 as Units4
How she came across the name Units4 as her username was that she was introduced to Fantage by her cousin called Units. The cousin went to leave on vacation so Units4 used her cousins username 'Units' and chose a random number which was 4 (Units5 as the original)
She was previously a member for a year before turning into a non in August
She has mentioned that her favorite animes are Noragami, Attack on Titan, Black Butler and Fairy tail and that fantage reminds her of Anime.
Units4 has a level of over 1300+ as a member. 
Ad blocker interference detected!
Wikia is a free-to-use site that makes money from advertising. We have a modified experience for viewers using ad blockers

Wikia is not accessible if you've made further modifications. Remove the custom ad blocker rule(s) and the page will load as expected.