Supersilly7 is a Fantagian with the level of 1077. Her talents are drawing and dancing. Her Youtube is Sayano Kitahara, her DeviantART is Londonthegoat, her Twitter was deleted, and her Wikia is Mistyemberandbea. She is known as Super or Supersilly.
Popularity
Her popularity came up to her fashion and high level. Only 00.00595% of Fantage has it! SuperSilly7 won almost every Fashion Show she went to, and also in the Top 10 in real time for Trensetter items.
Online Popularity
She is very talented with art, and can draw well.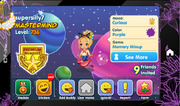 Favorites?
Mood:Relaxed
Music:Pop
Animal:Mermaid
Game:Rocket Board
Pet:Tom Tom
Sport:Track and Field
Language:English
Fantage Place:Creature Arena
Color:Purple
Food:French Fries
TV Show:???
NPC:Clara
Ad blocker interference detected!
Wikia is a free-to-use site that makes money from advertising. We have a modified experience for viewers using ad blockers

Wikia is not accessible if you've made further modifications. Remove the custom ad blocker rule(s) and the page will load as expected.