In Fantage, Santa Claus visits Fantage every year on Christmas week to give out gifts. He is usually found in Mt. Fantage where the game "Extreme Snowboarding" is located.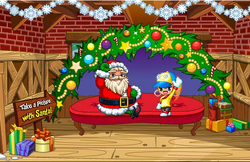 Roles Every Christmas
2009-Gave out gifts after answering his riddles.
2010-Made the new Extreme Snowboarding game.
2011-Gave out 3 gifts on 3 days after a bunch of boring minutes.
2014-Gave out free tops
2015-
2016-Gave out the reindeer hats
Ad blocker interference detected!
Wikia is a free-to-use site that makes money from advertising. We have a modified experience for viewers using ad blockers

Wikia is not accessible if you've made further modifications. Remove the custom ad blocker rule(s) and the page will load as expected.