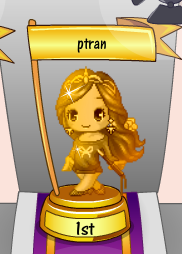 Ptran is a user who is in 20th place in the Hall of Fame, with a level of 4968. She started playing since 10/12/2009. Her favorite colors are red, bright blue, and lime green. She found out about fantage by being told by someone with the fantage username of jenny2466, who also interviewed her. The bottom picture shows ptran's Idfone as of July 31st, 2015.
Ad blocker interference detected!
Wikia is a free-to-use site that makes money from advertising. We have a modified experience for viewers using ad blockers

Wikia is not accessible if you've made further modifications. Remove the custom ad blocker rule(s) and the page will load as expected.