Prom 2015

Release

April 23rd, 2015 - May 6th, 2015

Event Type

Party Event

Event Theme

Prom

Areas Affected
Prom 2015 is the name for the official Fantage prom party event in 2015.
Information
Prom 2015 has one notable similarity to the prom party of the year before: the limo returned, exactly how it was in the last prom event. The limo arrived into Downtown and picked up guests. The limo arrived into Downtown once more after 10 minutes since its' last departure.
The limo takes players to the Castle, where the prom was being held, as it was in Fantage's prom party during 2010. The DJ will play music inside the Castle. Starting from April 30th, the DJ was sick and a new DJ took over, which was one of the players in the Castle. The role of the DJ is given to another player every 5 minutes. This DJ switching interval only takes place during 5 to 11 PM FST. There was a Premium Member-exclusive area in the Castle during the event, called Magical Terrace.
Voting for the Prom King and Prom Queen returned from the previous prom event. The Prom King and Prom Queen of 2015, by popular demand, were 
Captain Cody
 and 
Victoria
.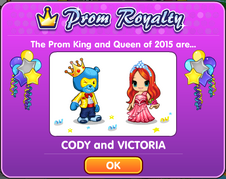 Two limited item carts are opened during the event. The Happy Graduation Limited Items! cart has graduation-related items available for purchase (Premium Membership is required), though the actual graduation items were not available to purchase until May 4th. The Prom 2015 Limited Items! cart has prom-related items available for purchase in Stars (Premium Membership required) and in Gold.
Trivia
Some props used for the prom party in the Castle have designs that are recycled from the previous prom event (for example, the purple dance floor resembles the purple dance floor used in Moonlight Prom).
Ad blocker interference detected!
Wikia is a free-to-use site that makes money from advertising. We have a modified experience for viewers using ad blockers

Wikia is not accessible if you've made further modifications. Remove the custom ad blocker rule(s) and the page will load as expected.