Otherworldy Items are recived when a Moonstone is in the orb. They are shaped like hearts with rainbow colors on it. There are two ways to get them. Go for a daily spin or buy it.

Cost of a Moonstone Gem
The cost is 1,200 eCoins. If you get three, you need 3,600 eCoins. You need 7,200 eCoins for 6 gems.
Probability
It's not easy to get a Moonstone Gem, but the items you recieve from it makes it all worth it. Here is an example of someone wearing complete Otherworldly items.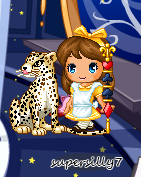 A note.
If you are here to check something wrong, you must be an admin. If you have more imformation or want to add an example of Otherworldly items, Feel free to add them.
Ad blocker interference detected!
Wikia is a free-to-use site that makes money from advertising. We have a modified experience for viewers using ad blockers

Wikia is not accessible if you've made further modifications. Remove the custom ad blocker rule(s) and the page will load as expected.