Old Fantage

Time Period

2011-2013
Old Fantage is the term to describe Fantage when it was no longer in the beta stages of the game, it was during the time period of 2011-2013. Old Fantage was in the newer stage of Fantage being a big corporation online gaming website, during this time they updated the avatars face (mainly lips) and made more clothes. In those years fantage released Limited Items during events which could only be purchased for a limited amount of time.
Old fantage had the stores
Vintage Classic (Store to buy discontinued beta items)
Trade and Sell (Shop to trade and sell users Clothes, Houses, Furniture)
Oasis Bazaar (Another store that sold discontinued beta items)
Photo Examples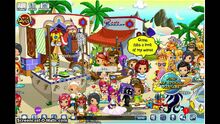 Ad blocker interference detected!
Wikia is a free-to-use site that makes money from advertising. We have a modified experience for viewers using ad blockers

Wikia is not accessible if you've made further modifications. Remove the custom ad blocker rule(s) and the page will load as expected.