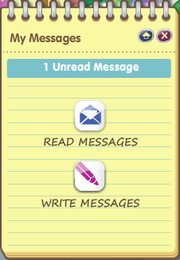 The Fantage Notepad was a Fantage feature introduced in 2009, replacing the Phone.
While the Notepad was a replacement for the Phone, it still kept all the same features. Users could write and read messages to and from buddies. After House parties was introduced, the notepad was removed from the players toolbar and replaced with the memo which can now be found at a player's home.
Ad blocker interference detected!
Wikia is a free-to-use site that makes money from advertising. We have a modified experience for viewers using ad blockers

Wikia is not accessible if you've made further modifications. Remove the custom ad blocker rule(s) and the page will load as expected.