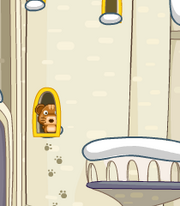 Mouse Out is a game located inside the Castle.
Gameplay
The player first chooses a difficulty before starting the game. There will be more gold bricks when the difficulty is easier, and less when the difficulty is harder. The objective of the game is to capture the mouse into one tile using gold bricks.
The player clicks on a tile to place a gold brick. The mouse will move each time after the player has placed a gold brick on a tile. When the mouse is trapped in one tile, surrounded by gold bricks, the game ends with the player receiving a considerable amount of Stars. The amount of Stars depends on how fast the player trapped the mouse.
If the mouse runs away onto the yellow tiles on the edge of the screen, the game ends with the player receiving a small amount of Stars.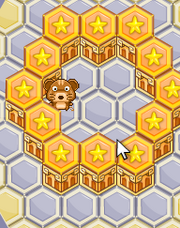 Other Languages
Japanese: とうぼうチュー (requires translation or fixing)
Ad blocker interference detected!
Wikia is a free-to-use site that makes money from advertising. We have a modified experience for viewers using ad blockers

Wikia is not accessible if you've made further modifications. Remove the custom ad blocker rule(s) and the page will load as expected.