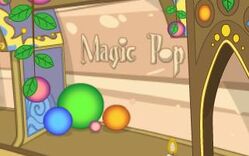 Magic Pop is a game located in the
Grotto
, in the forest. You play as the
Orion
who is also the magician located in Orion's rare finds. It is very similar to the game Bubble Trouble.
How To Play
The object of the game is to avoid the balls which result in losing a life. To save Orion you maneuver using the right and left keys to avoid the balls while simultaneously pushing the space bar which shoots out magic and destroys the balls. You are given five lives at the beginning of the game and after each round you are awarded with one life to compensate if you have already lost a life.on your keyboard.
Other Languages
Japanese: マジックポップ (Majikkupoppu)
Trivia
The majority of Fantage players (19th of July 2009) think that it is the best way to earn gems.
Ad blocker interference detected!
Wikia is a free-to-use site that makes money from advertising. We have a modified experience for viewers using ad blockers

Wikia is not accessible if you've made further modifications. Remove the custom ad blocker rule(s) and the page will load as expected.