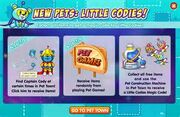 Little codies is an ongoing event style reward to get pets on Fantage. Here is how you can get pets from Cody's world:
To do this play any pet game and you will randomly be given 'prizes' that are all accessories.
Collect 30 accessories of the same color to create a cube board.
Collect 5 cube boards of the same color to create a pet.

Accessories can also be bought using Gold. Cody also comes all the time to give out free accessories. The accessories are stardust, fabric and yarn, and come in blue, purple and pink. With 3 each of one color, you can make a cube. You need 3 cubes for a pet.
Cody Jr.
A pet that is blue and looks like captain cody. Accessories needed:

Blue fabric
Blue yarn
Blue stardust
Rose
A pink bear holding a red rose. Accessories needed:

Pink stardust,
Pink fabric
Pink yarn
Toby
A purple pet that looks almost like a teddy bear. Accessories needed:

Purple yarn
Purple stardust
Purple fabric
Ad blocker interference detected!
Wikia is a free-to-use site that makes money from advertising. We have a modified experience for viewers using ad blockers

Wikia is not accessible if you've made further modifications. Remove the custom ad blocker rule(s) and the page will load as expected.