There are many ways to fly in Fantage.
Method #1
You go any were you want to like fashion show/home anywere.
You see NEXT to log out or language---> you see screen size.
You CLICK on Bigger Screen.
Click really fast! You click where you want to go like when you are done clicking the bigger screen. While its loading, you click where you wanna go but to make sure that you don't have any space and if there are the trick will not work.
After you did bigger screen, and if you are wondering how I make it small? Right there, the big size and small size. So, CLICK on the small size to get back but you will still fly when you do the small size.
If you are finished flying, you can use the keyboard or the mouse to log out and log back in again.
Then you won't be flying anymore. You have to make sure if it is right 100% right.
If you don't know fantage visit the site: www.fantage.com you can register/log in you can do many things in fantage. Hope you like the cheat! Bye!
Method #2
This method only works if you have some blurred-out premium membership Starred items in your inventory. Watch the video if you don't understand the steps.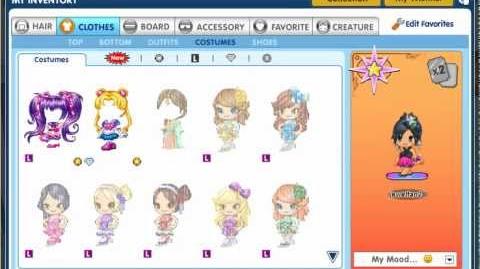 Go to your inventory.
Click on a blurred-out item, and the membership reminder will appear. Exit the membership reminder.
You'll notice that the buttons on the bottom of the screen can be used, even though they normally can't. Click on either World Map or My Inventory(in the video I pressed World Map).
If you chose World Map, exit World Map and click on My Inventory. If you chose My Inventory instead, you don't need to do anything else.
Either way, exit the inventory. You are flying on the inaccessible parts of the screen!
If you don't want to fly anymore, simply click on the ground. You can also leave the wall by exiting the place or logging out.
Method #3
The third method of flying in Fantage is the Creature Arena route. This is the method that works everywhere and it was what was used in the earlier days of Fantage.
1. Go to Creature Arena
2. Exit Creature Arena
3. Go to place you want to fly in
4. Open inventory
5. Press Tab untill yellow arrow is three boxes in from the bottom
6. Press enter and you should be flying (you know it worked correctly if you see the loading screen pop up quickly)
Ad blocker interference detected!
Wikia is a free-to-use site that makes money from advertising. We have a modified experience for viewers using ad blockers

Wikia is not accessible if you've made further modifications. Remove the custom ad blocker rule(s) and the page will load as expected.