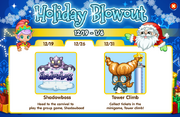 On December 19th 2013, the Holiday blowout started, and ran until January 6th, 2014.
Part 1 (December 19-26)
You can play the light up the tree game to get tickets and send limited items (each costing 200 stars) to your friends. From the light up the tree game you could get tickets for limited items for yourself. You could also get the Holiday Blowout 2013 medal. On the 25th you could get a free top from Santa!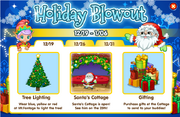 Part 2 (December 26-31)
Two new games (Shadowboss and Tower Climb) are released. Shadowboss is at arcade and tower climb at castle. Win tickets to use at prize booth. New prizes daily.
Part 3 (January 1-6)
Click on the elf to earn tickets, watch the returning ball drop and continue playing minigames and getting tickets for more new prizes. Limited items cart available.
Ad blocker interference detected!
Wikia is a free-to-use site that makes money from advertising. We have a modified experience for viewers using ad blockers

Wikia is not accessible if you've made further modifications. Remove the custom ad blocker rule(s) and the page will load as expected.