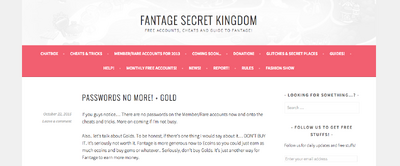 Fantage Secret Kingdom is a blog that is run by a fantage user named aaliyahnicole12. It is a blog that focuses on sharing tips for non-member accounts and giving out free accounts for every Fantagian.
Creation
The blog was created on July 2013 but shortly after that, the blog had a hiatus. But, just on October 2015, the blog was revamped and passwords for the once secret pages were given out. They are now currently focusing more on giving tips and sharing various accounts.
Blog Features
Chatbox
Cheats & Tricks
Member/Rare Accounts for 2013
Coming Soon...
Donation
Glitches and Secret Places
Guides
Help!
Monthly Free Accounts!
News!
Report!
Rules
Fashion Show
Ad blocker interference detected!
Wikia is a free-to-use site that makes money from advertising. We have a modified experience for viewers using ad blockers

Wikia is not accessible if you've made further modifications. Remove the custom ad blocker rule(s) and the page will load as expected.