Downtown is one of the most popular places in Fantage.
What it's known for
The shops and the Star Cafe.
The #1 place to find new events.
Top Models Inc. Is located at the far right.
Tons of people are here, calling for tryouts, inviting people to their house for an activity, party advertising , etc. They are most likely here in a large server.
Places inside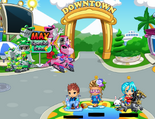 Other Languages
Spanish: Centro (Center)
Japanese: ダウンタウン (Dauntaun, Downtown)
Ad blocker interference detected!
Wikia is a free-to-use site that makes money from advertising. We have a modified experience for viewers using ad blockers

Wikia is not accessible if you've made further modifications. Remove the custom ad blocker rule(s) and the page will load as expected.