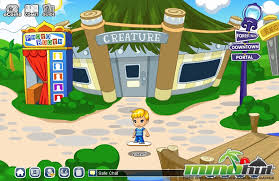 The Creature Area was a place specially designed to support a theme of Fantage's Creatures. The Creature Area was removed after the Fantage Cataclysm, and as a result the Creature Shop and the Creature Arena were moved to the Forest, next to Lucky Bob's Trading Post.
Games
You can play Bobo Fish right next to the Creature Arena. In April 2014, it was moved to the Arcade in the Carnival.
Shops
The shops in the Creature Area were:
Other Languages
Japanese: どうぶつワールド (Dobutsu warudo, Animal World)
Ad blocker interference detected!
Wikia is a free-to-use site that makes money from advertising. We have a modified experience for viewers using ad blockers

Wikia is not accessible if you've made further modifications. Remove the custom ad blocker rule(s) and the page will load as expected.