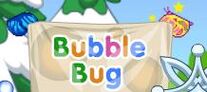 Bubble Bug
is a bug catching game outside the Grotto. There are different items to catch such as butterflies (200 points) and dragonflies (500 points. If you catch more than 1 bug at a time you get extra points.
Here's the easiest way to get the Sapphire Gem:
Get 4000 points.
Other Languages
Japanese: ちょうちょバブル (Chocho Buburu, Butterfly Bubble)
Ad blocker interference detected!
Wikia is a free-to-use site that makes money from advertising. We have a modified experience for viewers using ad blockers

Wikia is not accessible if you've made further modifications. Remove the custom ad blocker rule(s) and the page will load as expected.