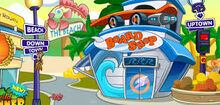 Boards are platforms Fantage avatars stand on. They are just like hover boards! They can be bought at Board Shop (Loco Boards) owned by Michael, and occasionally Vintage Gold.
From the start of Fantage, boards used to be known as Hover boards, but now they are just called Boards. You get two free boards when you join Fantage for the first time. Charity events with group items can often also get you free boards.
List of Boards and Prices
Boards usually cost from the hundreds to thousands in Stars or eCoins. The ones with a winged star are for premium members only, and the ones with a diamond are luxury items!
Coming soon!
limited boards
Coming soon
Ad blocker interference detected!
Wikia is a free-to-use site that makes money from advertising. We have a modified experience for viewers using ad blockers

Wikia is not accessible if you've made further modifications. Remove the custom ad blocker rule(s) and the page will load as expected.