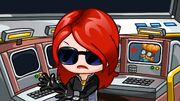 Agent Scarlet is a secret agent of Fantage who commmonly appears in missions in the mission center. She is most known for having her hair and outfit, which was available at Le Shop and Stellar Salon.
Appearance
She has a black suit, red hair and a watch. She has green eyes, but it isn't visible through her black shades.
Trivia
Agent Scarlet is often seen with Dr. Finkelstein. In fact, at Valentine's Day Event 2012, when Dr. Finkelstein was affected by Cupid's Arrow, he had a crush on Agent Scarlet and one of the mini-games involved you helping him find her to give her his gift.
Agent Scarlet first appeared in the January 19th, 2009 comic at the official Fantage blog, with a different outfit and a different name: Ms. Red. Instead of being a hero, she was an enemy. Proof of this is found here.
Ad blocker interference detected!
Wikia is a free-to-use site that makes money from advertising. We have a modified experience for viewers using ad blockers

Wikia is not accessible if you've made further modifications. Remove the custom ad blocker rule(s) and the page will load as expected.